Sep 8, 2019
Posted by admin
September is here and we're post Labor Day in the Boston area. Most everyone has switched gears from vacation mode back to business as usual. But, there's plenty of good weather left which means plenty of opportunities left to enjoy being outdoors. If you're not sure where to start, here are some local places where you can soak up what's left of the season.
BOSTON COMMON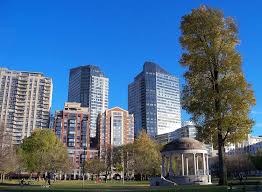 This 50-acre green space was created in 1634, making it the oldest city park in the U.S. The Boston Common has deep roots in the history of the city and country, many of which are now commemorated on memorials around the park. These days, it's home to the Frog Pond, which hosts winter ice skating, and Boston's Christmas tree each holiday season.
BOSTON PUBLIC GARDEN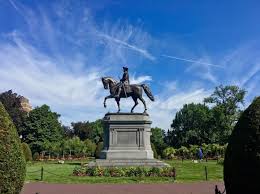 Located right next door to the Boston Common, the 24-acre Public Garden was created in 1837. It's a charming park, with a pond in the middle where you can take a swan boat ride, and features a monument to the classic Make Way for Ducklings book by Robert McCloskey.
ARNOLD ARBORETUM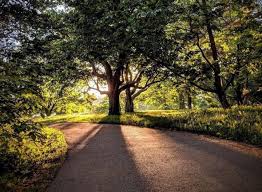 While this beautiful park designed by Frederick Law Olmsted is associated with Harvard University, you'll find it in Jamaica Plain. The 281-acres of the Arboretum house near 15,000 individual plants, which are free to visit from sunrise to sunset 365 days a year. A major highlight is the Lilac Festival in May—just don't let the crowds scare you away.
ROSE KENNEDY GREENWAY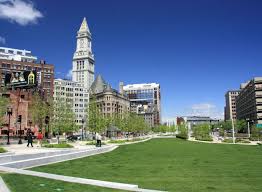 The Big Dig, when an elevated highway was moved underground, is notorious in Boston. And one of the reasons is the green space that resulted from the project. The Rose Kennedy Greenway sits on a one-mile, 15-acre stretch of land that runs through Chinatown, the Financial District, the Harbor area and the North End. You'll often find food trucks, a farmers market, and public art projects dotting the park.
BOSTON HARBOR ISLANDS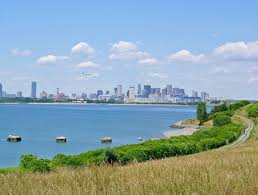 A unique way to escape the city without even getting in your car is by hopping a ferry to one of the Boston Harbor Islands. Visit in the summer to lounge on the beach while taking in spectacular views of the Boston skyline. You can also visit a Civil War-era fort, catch a glimpse of the oldest lighthouse in the U.S., and camp overnight on select islands.
CASTLE ISLAND
This next entry is neither an island nor does it contain a castle, so Castle Island is a bit puzzling. That aside, it's well worth a visit to this 22-acre recreation area that's also the site of Fort Independence, which dates back to the late 1700s. It's now a popular walking and running spot.
CHRISTOPHER COLUMBUS WATERFRONT PARK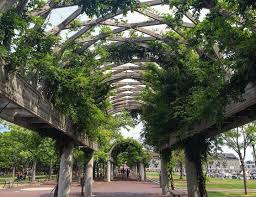 This 4.5-acre park sits between the Rose Kennedy Greenway and the Boston Harbor, providing a gathering space for the neighborhood. It hosts festivals, summer movie nights and art shows, and has a beautiful rose garden. The park even has WiFi so you can work outdoors on sunny summer days.
CHARLES RIVER ESPLANADE
This is probably the most iconic spot to go for a run in Boston, so get ready to strap on your shoes and pound the pavement. The Esplanade runs along the Charles River and houses ball fields, playgrounds, and a sailing center. Plus, it's the site of the annual Boston Pops Fourth of July performance at the Hatch Shell.
FRANKLIN PARK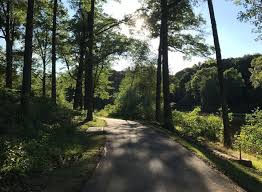 This 527-acre park is Boston's largest and is home to a golf course and zoo. Part of the Emerald Necklace, Franklin Park straddles the neighborhoods of Jamaica Plain, Roxbury, and Dorchester. The park is a well-known cross-country course and an area of it even hosts cricket games on Sundays.
HARVARD YARD
The oldest and probably most famous part of the Harvard University campus, Harvard Yard contains 22.4 grassy acres. It's the perfect spot to sit under a tree and read a book or swing through on a run around the city. Don't miss the John Harvard statue, where it's rumored that rubbing his left shoe will bring good luck.
THE RIVERWAY
A major connector in the Emerald Necklace, the Riverway is a peaceful spot to run or stroll. It runs from the Back Bay Fens following the path of the Muddy River to Olmsted Park near Brookline Village. Follow it even further to end up at Jamaica Pond, which is itself a great outdoor destination and even has a place to rent boats.
OUTDOORS AWAY FROM BOSTON
MIDDLESEX FELLS RESERVATION
Head just north of Boston to the Middlesex Fells Reservation to hike the 2,200-acre state park that straddles several neighboring towns. Hike up to Wright's Tower for stunning views of the city, take your dog to Sheepfold Meadow for a romp, or take your mountain bike for a spin.
MINUTEMAN BIKEWAY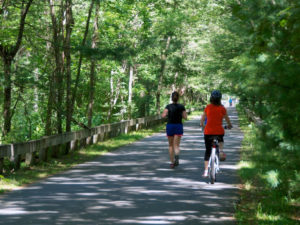 This 10-mile multi-use paved trail runs from the Alewife MBTA Station in Cambridge through Arlington and Lexington before terminating in Bedford. This is a great spot to run, walk, or bike without having to worry about urban traffic, especially if you plan to go for many miles. Pit stop at one of the parks along the way for a picnic.
BLUE HILLS RESERVATION
This 6,000-acre park is located just south of the city, making it an easy destination for a quick escape. There are dozens of hiking trails to choose from that suit any ability level and a trek up to the Blue Hills Meteorological Observatory affords incredible views of Boston. Pack a few PB+Js and make a day of it.
ARLINGTON'S GREAT MEADOWS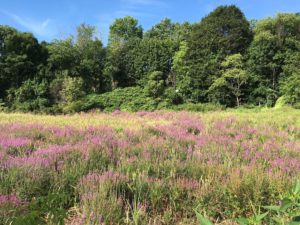 Access the Arlington Great Meadow from the aforementioned Minuteman Bikeway for a true treat. This 183-acre open space is a popular recreation spot in the Arlington/Lexington area that you can explore on your own or on one of the guided hikes. It's full of wildlife, so keep your eyes open for the beautiful birds that call the Meadows home.
FRESH POND
We can't believe how secluded Fresh Pond feels considering there's a Whole Foods within steps of the major access points. Hop on the 2.25-mile trail that travels the perimeter of Fresh Pond, a reservoir that was once used to harvest ice. There's also a 9-hole golf course and an area for Cambridge-registered dogs to run around off-leash.
WORLD'S END
While technically part of the Boston Harbor Islands National Recreation Area, World's End in Hingham is not an island. It is a wonderful place to go for a walk. The 251-acre green space has views of Boston and often attracts butterflies.
BREAKHEART RESERVATION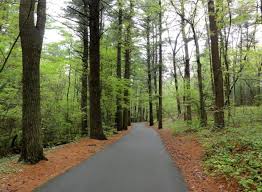 A 652-acre state park located north of the city in Saugus and Wakefield, Breakheart Reservation offers a lot of options for outdoor activities. Take to the trails for hiking, mountain biking, and cross-country skiing. Or take a dip in Pearce Lake in the summer, go fishing, or bring your dog to the Bark Place play area.
CRANE BEACH DUNES
If you're seeking a unique hiking experience, look no further than the Crane Beach Dunes in Ipswich. The beach is a popular summer destination, but the area provides opportunities to get outdoors in the off-seasons too. Hike the dunes for a great workout in an uber peaceful setting.
WALDEN POND
Maybe the most famous outdoor destination on this list, Walden Pond has been the go-to spot for those looking to get away from it all for nearly 200 years. Spend the day at this 335-acre state park exploring the trails, visiting the site of Henry David Thoreau's cabin, and swimming in the clear waters of the pond itself. Pack a picnic and prepare to be transported back in time.
MYLES STANDISH STATE FOREST
After a short drive south of Boston to Plymouth, you'll find Myles Standish State Forest, the perfect spot for a day or weekend trip out of the city. Myles Standish has tons of trails for hiking, biking, and horseback riding. There's also swimming, fishing, and canoeing in the many lakes and ponds that dot the forest. Plus, you can camp overnight to extend the getaway.
HAROLD PARKER STATE FOREST
If you'd rather head north than south, Harold Parker State Forest is a fun destination for an escape from the city to Andover. Traverse the many trails on foot, mountain bike, horseback, or cross-country skis. Or swim, fish, or boat in the many ponds found in the forest. Overnight camping is allowed.
NICKERSON STATE PARK
A little bit farther away from Boston is Nickerson State Park, located on Cape Cod in Brewster. A weekend on the Cape can cost a pretty penny, but not so if you camp at Nickerson, which is located on the Cape Cod Rail Trail. Bring your bike to explore the Cape while getting some exercise or swim, fish, or canoe in one of the many area ponds.
This material was originally published on Fitt.co.